4.7 / 5
Loop is the ONLY digital photo frame you can TEXT message photos to - and they appear instantly - anywhere in the world!
Buy Now
Featured By
Delightfully easy to use
Connect to wi-fi
Plug in and use the touch screen to connect to Wi-Fi.

Invite your family
Everyone can send photos to your frame and see what's being shared with the free mobile app.
Text message photos to the frame
Text message photos or use the app to send photos to the frame and they'll appear instantly.
The perfect gift to stay connected with loved ones
Make a loved one's day by keeping  them involved in your every day life. With Loop you can capture a moment from your world and send it straight into theirs so they can share in everything from your little one's first steps to your latest vacation. Send a snapshot in the moment, or relive memories with old family favorites.
Loop is the perfect way to get those special photos off your phone and into the home. For those who aren't tech savvy, Loop can be a life changing way to stay connected without using a smartphone.
100 Day Risk-Free Guarantee
We are so confident your family will love Loop that we will give you a 100% satisfaction guarantee, or your money back!
Buy Now
"We regularly share photos of our kids, travels, and pics of everyday life. It helps keep people feeling close and included"

Monica J. from Seattle, Washington
Having both my son's grandparents not in the same state as us Loop has become more than a noun and has turned into a verb. "Let's Loop with Grandma and Grandpa today!" Love this product.

Kevin L.
Great to have your pictures ready and easy to share in person, not thumbing around on your phone! Keep organized by special events and themes, your own personal channels. Makes the memories close in reach.

Tim D.
We love our Loop frame. I have tried other digital frames in the past, but none were 'the one.' this one was so easy to set up, and the process if adding is so much easier than those I've used before. It also has cool settings for "grandparent" mode if you are considering it as a gift.

Beth Mank
I got this for myself, for a birthday gift and I just love it. Now I want to gift one to everyone in my closest circle of family and friends. It is touch screen and runs with WiFi (way better than a memory card). I can send photos to my frame from anywhere and I can share a link to friends and family so they can send photos to my frame too (you get a message that there are new photos). I have nothing but wonderful things to say about the Loop.

Rosey
I was surprised how easy this loop digital picture frame was to use. There were step-by-step instructions and set up only took a few minutes. The picture quality is great and I love the large screen. This would be the perfect gift for grandparents living across the country.

Lisa Marie
.
.
.
.
.
.
Beautifully Simple To Use
Sets up in 1 minute
Just plug in Loop, connect it to Wi-Fi and start adding photos straight from your phone - it's that simple.
Everyone in the family can send photos to Loop
Make your Loop experience even more special by connecting the entire family. Invite them with the app so they can add photos and see what's being shared.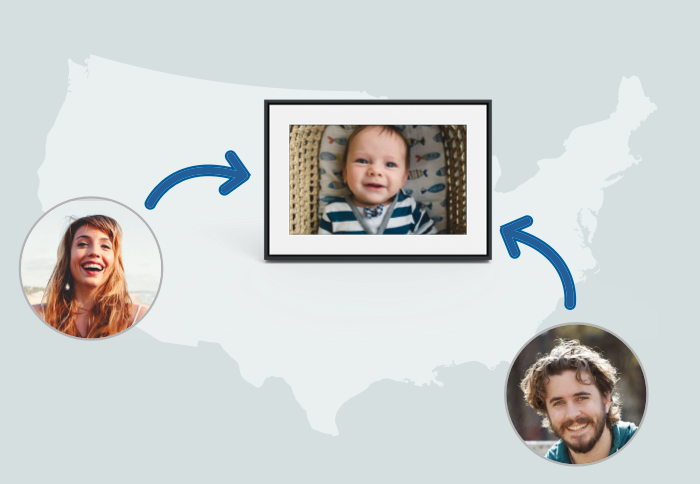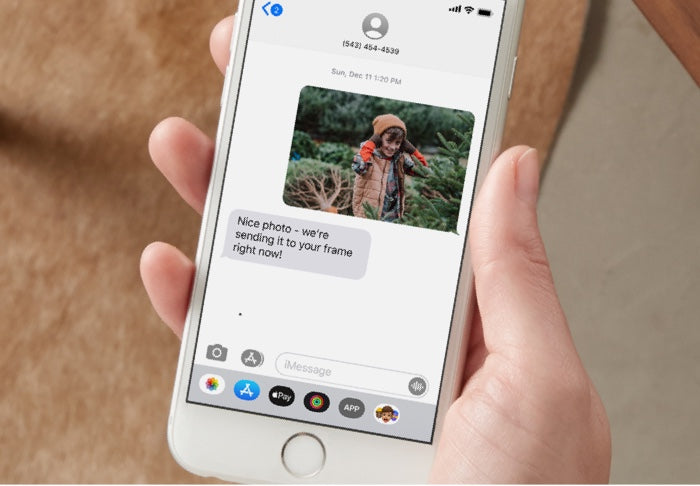 Text photos to Loop and they show up instantly
Text message photos to your Loop phone number and they'll go straight to your frame. You can also use the app to send photos as well!
Easy to use touchscreen
Sit back and let Loop rotate through photos all by itself or use the touch screen to swipe to the next one - there's  no need for a remote control or awkward buttons on the back of the frame.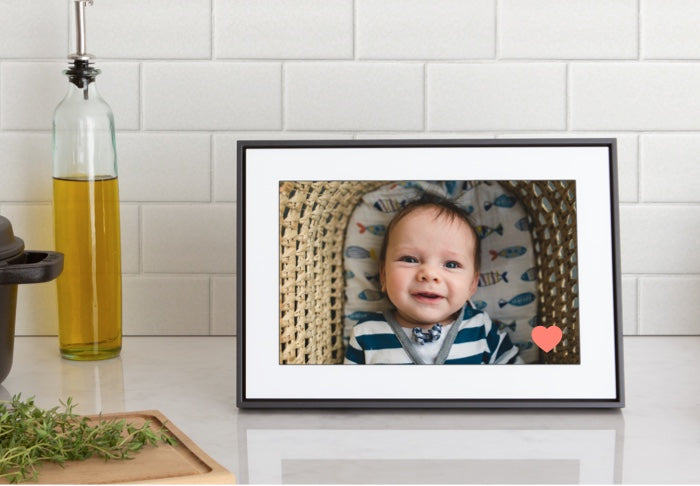 Tap 'like' on your favorite photos
Love a new photo that just came in? Simply tap on the heart button on Loop's touchscreen to let the sender know.
Get notified when they see your photos
After someone 'likes' a photo, you get a notification so you know they saw it!
Vibrant class leading IPS display
Thoughtfully designed to fit in any home
FAQs
How is Loop different than other frames?
Instead of white-labeling another manufacture's frame like many others, we've spent years designing Loop from scratch to create a quality product. Loop features a high end custom IPS screen so your pictures look great, and a contemporary design meant to look good from every angle. We've also put a lot of care into our mobile app because we believe it's just as important as the frame itself.
Is Loop easy to use for people that aren't tech savvy?
Loop was designed specifically with non-tech savvy people in mind. You can set up your frame for a completely hands-free experience. The frame can be controlled and customized remotely from anywhere with the app so the gift recipient never has to worry. There's also a super simple touch screen interface for customizing Loop on the frame directly as well.
How do I setup my frame
To setup your frame just plug it in, create a Loop account and connect it to Wi-Fi. From there, download and use the app to add photos and invite the rest of your family.
How do I send photos to Loop
You can send photos by text messaging them to your Loop phone number, uploading them with the app, or choosing an Instagram, Facebook or Google Photos album to sync with. There's multiple ways to add photos so you can decide what's easiest for you!
Can others send photos to Loop?
Yes absolutely! Everyone in the family can download the free app and connect to your frame(s). Once connected they can share photos, view what other family members are sharing, and comment on photos.
Do other family members need a Loop frame to participate?
No, we designed the Loop app to be a wonderful experience on its own. Family members can see everything that's happening with the app and are notified about the latest updates.
Can I send photos to multiple frames at once?
Yes, simply send the photo to whichever album you'd like and if you've set up that album to go to multiple frames then the photo will show up in multiple frames at once.
Can I setup Loop before gifting it to someone?
Many people love to buy Loop as a gift for a love one so we've tried to make this as easy as possible. We recommend setting your Loop up and pre-loading it with photos for the best experience. If you're mailing the Loop you can also pre-program the gift recipient's Wi-Fi information so all they need to do is plug it in for the ultimate hassle free setup.
Get Loop for your loved one today!
Buy Now